Before you attempt to install the ActionPad server, please make sure you have the latest version of Java installed. ActionPad requires Java 1.8 or later to run. You can install the latest version here.
Connecting Devices
To connect devices, make sure the server is running. In the ActionPad app, it will attempt to scan your WiFi network for ActionPad servers. If your computer is scanned, you will see it in the found devices list. If not, tap Manual Add in the top right corner, and enter the details used to connect to your computer, which can be found in the "Connect Devices" screen of the server application.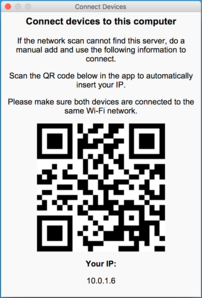 The connect devices window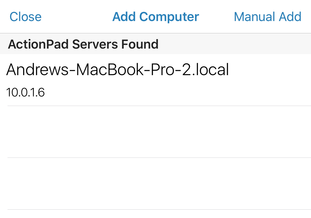 The add computer screen in-app
If the device is successfully able to reach the server application running on your computer, you should see a message like this come up: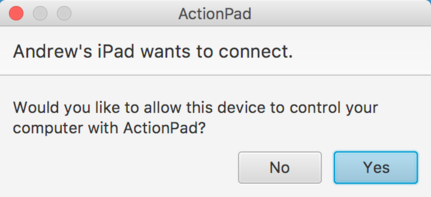 Once you have successfully connected to your computer from the app, the app will indicate a successful connection, and you may begin using ActionPad to control your computer remotely. I hope you enjoy using ActionPad!
Having Issues?
If you are having trouble connecting your device, please make sure you don't have any firewall or antivirus software preventing devices from connecting to the ActionPad server on your computer. Also please make sure you start the server on the same wifi network. If you get a message saying the server is having trouble running on the current port/address, please go into the ActionPad server settings menu and try a new port.
If you change WiFi networks or your IP is changed while the ActionPad server running, you must go into settings, reset defaults (to change to the new IP), and update the server for it to work over the new network.
If you are still having issues and you cannot seem to solve the problem, please E-mail me at andrew@andrewarpasi.com